Home
April 2016
Steve here, and I hope this finds you well (more to come on that wonderful expression). With always more of an emphasis on the MUSIC part of the music-business, my all time favorite thing is writing songs. And cowriting songs with musician friends. Second favorite is getting to use my poison blow dart straw weapon on drunks who yell "Free Bird", but I digress. I remember a perfect clip I once saw of Keith Richards where he describes having the germ of an idea and getting in the room with the group letting it develop and blossom (although I haven't been lucky enough YET where the germ of my idea was the riff to "Can't You Hear Me Knocking" :). The thrill and that spark of creating something from nothing. Along those lines, here is a song that I co-wrote with a good friend and very talented singer and harmonica player Bruce Baum. Bruce recently recorded it in Nashville and the song is called "I Hope This Finds You Well" check it out
http://brucebaum.bandcamp.com/track/i-hope-this-finds-you-well
February, 2016
Here it is
August 2015 new song Midnight To Noon coming down the pike
June, 2015 Thanks to POA Planet Of The Abts for the great shows
May 30, 2015 new song "Heal My Heart" is up on youtube - https://youtu.be/0WU8QS_CIT0
April 19, 2015 The 100 Watt Suns are incredibly excited for our run of shows coming up in June opening for POA Planet of the Abts
Emerging from the Grammy nominated rock band Gov't Mule,
POA
(Planet of the Abts)
consists of the locked and loaded rhythm section of drummer
Matt Abts,
killer
bassist
Jorgen Carlsson, and our new recordings - stay tuned
April 13, 2015 big thanks to Fairfield Theatre FTC and to Pat Travers for having the 100 Watt Suns play what a night!
April 12 we will be playing at the Fairfield Theatre with Pat Travers
https://www.facebook.com/events/898447210180584/
---
March 2015 - 100 Watt Suns are currently in the studio recording new songs, stay tuned
1/31/2015 Café Nine in New Haven
WE ARE REALLY PSYCHED THAT JANUARY 16, 2015 WE'LL BE AT THE LEGENDARY TOAD's PLACE!!! http://www.toadsplace.com/
10 Connecticut Bands You Should Listen To Now
magazine
100 Watt Suns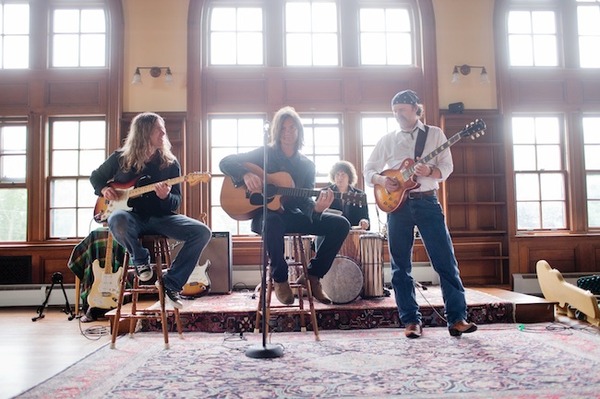 Hometown: North Stonington
Current Album: Steve Broderick & The 100 Watt Suns EP (2013)
Back in 2011, Steve Broderick shelved the solo album he was working on and decided to form the 100 Watt Suns instead. Each of the members of the band have a long history in the music industry, creating soulful, Americana-tinged bar-rock with clever lyrics like, "I don't blame you for trying…but you can't hind your crazy for that long." During 2012, the band focused on performing locally and around the New England region, and in 2013 they released their first record, a five-song EP. The 100 Watt Suns will be performing mainly in Connecticut and Rhode Island this spring and summer.